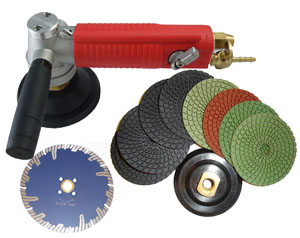 At Toolocity.com, we carry an impressive catalog of diamond tools for stone, concrete, and marble applications. Our marble tools are available for polishing, grinding, cutting, and more. With package deals available, you can buy the perfect combination for your project needs.

Known for excellent customer service and affordable prices, Toolocity.com has a wide variety of concrete and marble tools. From stone cutters, to hand profilers, to granite fabrication tools, we have dozens of categorized items to choose from. Additionally, we also carry a full line of safety products and always feature store clearance items. As an online diamond tool distributor, we are proud to continuously offer new products, superior service, and unbeatable prices.
At Toolocity.com, we carry a large selection of diamond bits including finger, router, core, and more. We proudly offer a wide variety in diamond core bits. These specially designed bits are perfect for many different applications and needs. Choose from wet core bits, dry bits, and vacuum brazed bits. Our diamond core bits are widely used for both granite and marble core drilling. With brands like Alpha, Cyclone, and Monster, you are sure to get the job done quickly and impressively. Many of our bits feature side protection to allow you to drill holes properly with or without water. This allows for a faster and cleaner process. To learn more about our products including adhesives, finger bits, cup wheels, and polishing pads, please continue browsing though our in-depth catalog of items on our website. To learn more about concrete polishing and featured products, please continue reading our comprehensive collection of articles. If you have any questions, comments, or for all other inquiries, please feel free to contact us at 1-800-980-7808.
Learn more about: