Toolocity.com is home of the diamond tools online store. As a distributor, we are able to provide contractors, DIY homeowners, and fabricators with the highest quality granite fabrication tools, granite drilling tools, diamond cutters, and more. By working directly with fabricators, we are able to ensure they produce the best quality products. Fabricators are the small to medium sized companies that use specialized machines and tools to fabricate granite countertops for the residential and commercial markets. Additionally, with a large selection of diamond polishing pads available, you will be able to have beautiful, glossy granite, marble, and concrete.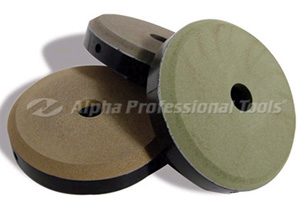 With specialized pads, Toolocity.com has the perfect selection of polishing pads for granite, marble, and concrete. Our superior quality diamond polishing pads are ideal for various applications. Choose from wet resin bond, dry pads, and even metal-bond polishing pads to get your job done correctly. Available in convenient packs, there is no reason why you should spend lots of money on individual diamond pads.
At Toolocity.com, we manufacture superior router bits that are either metal-bond or brazed. In addition, our granite router bits are compatible with a wide selection of portable routers including:
Master
Hercules
Stinger
Ghines
Sector
And more
By offering compatible technology, the most popular edges, and premium quality, we are able to offer the best granite router bits at the lowest price. At Toolocity.com, we are dedicated to applying the latest technology to produce only the best diamond bits. Additionally, we also carry diamond core bits and finger bits. We promise you will love our top quality bits. The only real difference you will see in comparison to other premium brands is the money you save. To learn more about our granite fabrication tools or diamond bits, please continue to browse through our website. Continue reading our comprehensive selection of articles to learn more about concrete polishing and diamond tools.
Learn more about: