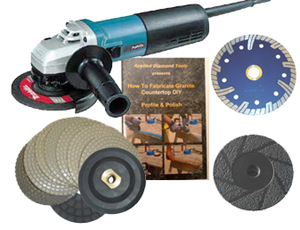 At Toolocity.com, we are known for our superior quality diamond and marble tools for stone and concrete. Our quality tools are for polishing granite, marble, and concrete. In addition, these granite tools are perfect for concrete floor restoration and granite countertop fabrication.

With affordable prices, our online store has a vast catalog that features:
How-to DVDs
New products
Package deals
Safety products
Parts and adapters
Store clearance

Additionally, our extraordinary and complete collection of diamond tools for stone and concrete applications are perfect for fabricators, contractors, and DIY homeowners. At Toolocity.com, we have numerous featured tools including the diamond grinding wheels and diamond core bits. Our diamond drum wheels are available in zero tolerance, resin filled, vacuum brazed, and polishing drums. These perfect tools are more than stone cutting tools; they are great choices in tuning up rough cuts in marble, granite, and more.
At Toolocity.com, we are more than an online diamond tool superstore. We proudly offer superior quality products at low prices with excellent customer service. We are dedicated to making shopping for concrete and granite tools simple, fast, and affordable. With a large selection in products that are ideal for professionals and DIY homeowners, we are sure to have the perfect stone cutting tools for all of your traditional, custom, and standard applications and projects. From diamond saw blades to Waterfed air grinders, we have all the tools you may need. To learn more about diamond grinding wheels, please continue browsing through our in-depth website. If you would like to learn more about our great concrete polishing tools and more, please continue reading our comprehensive collection of featured articles. If you have any questions, comments, or concerns, please feel free to contact us today at 1-800-980-7808.
Learn more about: